My name is Adebayo Oluwatobi, a Nigeria based visual artist. I exhibit and visualize my mind and thoughts through the use of graphite and charcoal pencils on paper canvas which I refer to as "Life on Paper"
Drawing/Art/Creativity is a natural talent which I discovered long ago, at a very tender age during nursery/primary school days. But I was privileged to take it and to a professional level in early 2018 through inspiration from fellow artists I met in school and also online.
I'm a science student studying Industrial Design at the Federal University of Akure (FUTA), currently in my 3rd year. Art is different from design even though they are related. Art is an Expression while the design is technology (conceptualizing ideas to make a prototype to solve a problem). So, I'm an artist and also a scientist.
My recent project "Happiness Within" was inspired long ago that I couldn't even remember, I grew up with the idea. It has always been my mission, finding happiness within myself at all costs even though all odds are against me. And I was triggered when I came across a picture on Instagram photographed by Rachael Seidu, of which a friend of mine, Adesewa, is the muse. It has to request for it, in order not to violate copyright, we reached an agreement and the reference picture was released for use. That was back in January 2019.
Creating Happiness Within ourselves is very important and crucial, no matter what situation and circumstances we find ourselves whenever and wherever. Breathe in positivity, breathe out peace. Let your mind be at ease and make the best out of life.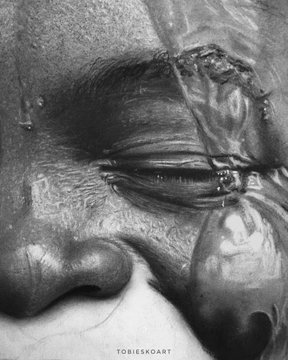 Size; 24 by 29 inches
Medium; Graphite and Charcoal on Paper
Duration; September 2019 to April 2020. (Several foreseen and unforeseen circumstances came up during the course of the project)